As couples journey for fun choked images, for an occasion to be remembered a lifetime – please allow us the opportunity to share our favorite tips with you. If you love the idea of combining a unique dream trip while celebrating your own marriage anniversary stories, a photo shoot could be a perfect gift idea.
1. Disney's Magic Kingdom – Most Popular Anniversary Photo Shoot Location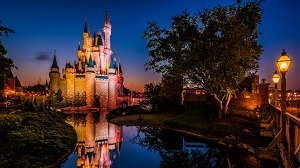 Perhaps we're biased living in Central Florida, but our most favorite idea for an anniversary or wedding getaway is right in our backyard. Magic Kingdom is on of the most popular photography service requests we receive as a photographer.
For any anniversary shoot couple who loves Disney, it would not be complete without that romantic shot taken will be on the lead up to Cinderella's Castle. Grab some balloons and strike a pose for that fun and iconic 'Up' snapshot.
The Grand Floridian is also a popular location for weddings, underneath their gorgeous marriage pavilion. What more picturesque way to celebrate an anniversary with your life partner, than to renew your wedding vows in this beautiful setting?
2. EPCOT – Most Diverse Backdrops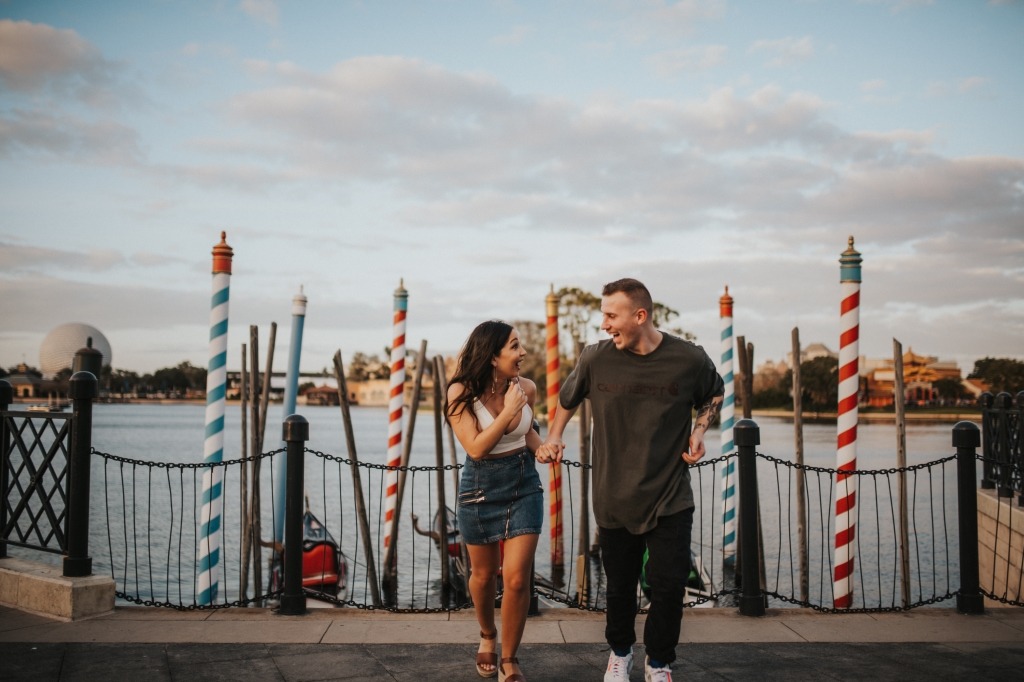 EPCOT is really one of those places that has something for everyone. Choked full of information about other countries and cultures, you can experience a trip around the globe in their World Showcase.
For a wide selection of anniversary pictures, the World Showcase is a collection of 'lands' that are designed to look like various countries. So, you have places like Japan, the United Kingdom, France, Italy, Mexico, Canada, China, Germany and Norway.
Although we have had many anniversary photographer requests here, there have been a number of wedding and business clients that just love the inspiration and vibrant colors that surround.
3. Charleston, South Carolina – Most Serene
Now, Charleston may not necessarily be one of the first ideas that jump to mind when you think of a romantic photoshoot. However, we can assure you it is a wonderful first anniversary (or any year anniversary!) location any couple would love.
What movie screams love more than The Notebook? The fictional town of Seabrook was based on Charleston. Do you remember the scene where Noah and Allie go for a boat ride and get caught in the rain as they rekindle their relationship and share memories from before [1]?
Cypress Gardens is an actual place you can visit where this scene was filmed. Many hold their own anniversary photo session and create memories here that last a lifetime.
Aside from the Notebook filming locations, Charleston, South Carolina look incredibly romantic. Imagine horse-drawn carriages, beautiful buildings, and cobblestone streets. It is almost as if you have been pulled back into the past.
4. Hawaii – Most Unique & Tropical Anniversary Photo Shoot Location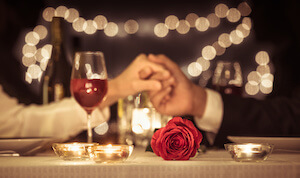 Are you looking for information or an idea to celebrate your first anniversary on a beautiful beach? Here's a wedding photographer favorite! Does your husband cringe when you mention family or anniversary pictures? Hawaii could be the answer!
Most any location on the islands have that beautiful blue sea as a background while you stand on that sandy, white beach. The scenery is going to be a little bit different from what you will find elsewhere in the United States too.
Hawaii is also popular to hold a wedding, a momentous year anniversary or just something to capture photos that are unlike most others.
5. Las Vegas, Nevada
Have the photography information ideas been too mushy for your style so far? If so, Las Vegas could be your ticket to showcase the love for your partner.
Bright lights everywhere. A replica of the Eiffel Tower, and a plethora of stunning buildings [2]. If you can't quite get to Paris for your photoshoot, then Las Vegas in Nevada is probably going to be the next best spot. It probably helps that Las Vegas is a pretty good place to head for marriage too if you're not into tradition.
It should probably go without saying that if you really want to have some of the best shots of you taken in Las Vegas, you should be spending your time hanging around The Strip, although there are still plenty of other places throughout the city that you are going to be able to enjoy.
Las Vegas is an idea that truly has something for everyone.
6. Central Park, New York
There are plenty of places throughout New York City where you are going to be able to have some great shots taken. However, we find that Central Park is one of the better places for your anniversary photo shoot. A location idea that is overflowing with beautiful scenery.
There is a reason why so many people love capturing moments here. Sure, it is going to be a bit easy at times. However, we have always found that some of the best shots at Central Park tend to happen when the sun is rising or just setting.
7. San Francisco, California
Many photographers sharing information ideas are partial to having the Golden Gate Bridge in the background of an anniversary photo. It is a tremendous piece of architecture, and we find that having some recognizable architecture always helps to spice up those shots a little bit.
One of those wonderful photography moments is to capture some pictures of a couple as the sun is rising over the bridge. A real gift from mother nature. Of course, there are also plenty of other places that you can explore in San Francisco but this ranks as our favorite.
Frequently Asked Anniversary Photo Shoot Questions
Is Wanderlust Portraits Available for an Anniversary Photo Session?
We'd love to be a part of capturing this life moment or wedding anniversary for you! It is our business after all. However, we currently only serve the Orlando area. If you would like a photo shoot in Disney or Central Florida areas, please do reach out!
We're Celebrating Our Wedding Anniversary in Central Florida, But Have Our Own Location In Mind
Wanderlust is happy to accommodate most any idea for anniversaries that you have! Please shoot us a message with your idea and any information that would be helpful and together we can plan the ultimate anniversary portraits.
What Should I Wear for An Anniversary Photo Shoot?
If you have a favorite gift from your partner or accessories that you adore, be sure to wear them on the day of your session!
Is Pinterest a Good Place To Get Ideas for Wedding Anniversary Photos?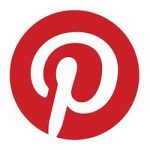 If there is a Pinterest anniversary photo shoot that you absolutely love, be sure to share it with us. In general, there is nothing wrong with getting Pinterest anniversary photography ideas or inspiration.
However, with years of experience capturing anniversary photos, feel free to leave the photography idea and creative process to us. No Pinterest required!
References
https://www.southernliving.com/travel/south-carolina/notebook-movie-tour-charleston-sc
https://www.caesars.com/paris-las-vegas/things-to-do/eiffel-tower