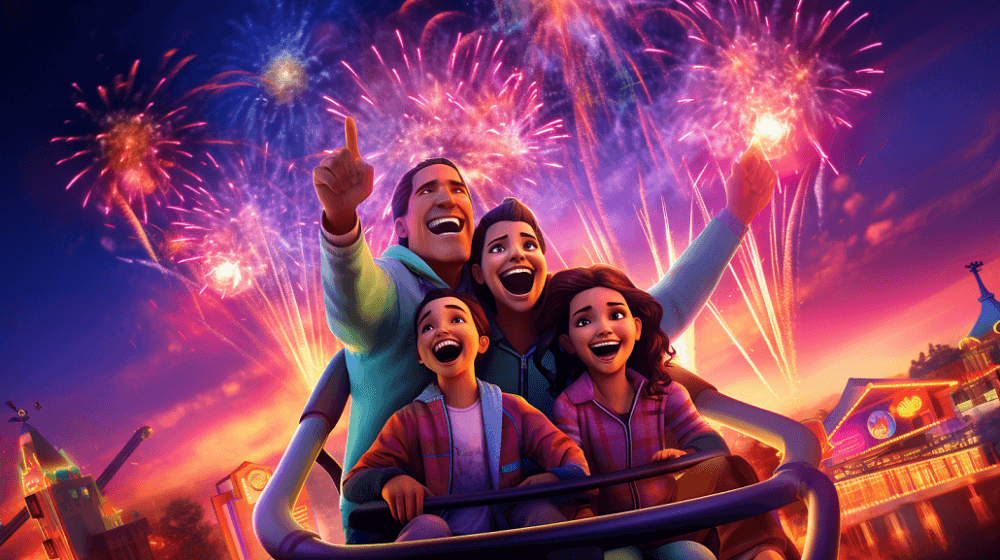 Ready to seize the day at Orlando's magical theme parks? You're in for the time of your life!
But don't forget, capturing those unforgettable moments is an art. With our guide, you'll learn how to document your thrilling experiences like a pro.
You'll discover the essential equipment, best photo ops, and unique ways to preserve those precious memories.
Let's dive right in so you can relive the magic long after the rollercoasters stop!
Preparing for Your Orlando Theme Park Adventure
You'll need to plan ahead to make the most of your adventure in Orlando's theme parks. Start by understanding Park Etiquettes. Remember, you're sharing this magical space with thousands of others, so respect the rules. Don't skip lines, keep noise levels down, and be mindful of others' experiences.
Ticket Strategies are also crucial. Booking online in advance often gets you better deals. Going for multi-day or park-hopper tickets can save you money if you're planning on visiting multiple parks. Also, don't forget to check for any special offers or seasonal discounts.
Essential Equipment for Capturing Theme Park Memories
Don't forget your camera and extra batteries, they're vital for documenting all the fun you're going to have. Now let's focus on camera selection advice. You're probably wondering 'DSLR or smartphone?' Well, both have their merits. A DSLR gives you stunning image quality and versatility, but a smartphone is lightweight and always at hand.
| Equipment | Pros | Cons |
| --- | --- | --- |
| DSLR Camera | High image quality, versatile | Heavy, expensive |
| Smartphone | Lightweight, convenient | Limited features, battery life |
Once you've captured your memories, it's time to polish them with smartphone editing apps. Try Snapseed for its comprehensive editing tools, or Prisma for artistic filters. Remember, it's not just about capturing a moment, it's about telling a story.
Making the Most of Photo Opportunities at Orlando Theme Parks
In terms of maximizing photo opportunities, it's essential to know the best spots for breathtaking pictures at these amusement venues. You need to master photo etiquette and best lighting techniques.
Early Morning or Late Afternoon: These are the golden hours when the sun's light is soft, warm, and directional. It's the best time for capturing vibrant, well-lit photos.
Cinderella's Castle at Magic Kingdom: It's an iconic spot. Practise good photo etiquette, don't monopolize the spot, others want their magical moment too!
Hogwarts Castle at Universal's Islands of Adventure: The intricate details of this castle are best photographed in soft, diffused light.
Unique Ways to Document Your Orlando Theme Park Experience
Beyond the typical snapshots, there are myriad unique ways to document your amusement venue experiences. Don't just stand in front of the castle for a photo – get creative! Be on the lookout for characters roaming around the parks.
Capturing character interactions is a surefire way to add a dash of magic to your photo album. Get a high-five from Mickey, share a laugh with Olaf, or even catch the mischievous Stitch on the run. These candid moments are precious memories waiting to be captured.
Don't forget about utilizing ride photos either. You know, those hilariously unflattering snaps taken mid-ride? They may not be Instagram-worthy, but they're a genuine reflection of your exciting day. So let loose, have fun, and remember – every click captures a memory.
How to Preserve and Share Your Theme Park Memories
You've got an array of hilarious ride photos and candid character interactions, so now it's time to figure out the best ways to share and keep those precious moments safe. Here's a quick guide to help you:
Memory keeping apps: They're a great way to store and organize your photos. Some even allow you to add captions, tags, and locations!
Social Media: It's an easy way to show off your adventures. But remember, don't let the likes dictate your fun!
Theme park scrapbooking: Get creative! Compile your photos, ticket stubs, and other memorabilia into a beautiful scrapbook.
These methods won't only safeguard your memories, but they'll also allow you to relive the joy and excitement of your Orlando theme park experience anytime you wish.
Tips and Tricks for a Memorable Orlando Theme Park Visit
Planning your visit to the attractions can be quite the adventure, so here are some handy tips and tricks to make your experience more memorable.
| Budgeting Tips | Park Etiquette |
| --- | --- |
| Prioritize your must-dos to avoid unnecessary expenses | Always respect the park rules for a smooth experience |
| Food and drink can be pricey, consider a meal plan or pack snacks | Be patient, queues can be long but it's part of the experience |
| Look for discounted tickets online or in local shops | Remember everyone's here to have fun, be considerate |
Always remember, budgeting tips and park etiquette are key for a stress-free, enjoyable visit. Be smart with your money, patient in lines, and courteous to fellow park-goers. Your Orlando theme park visit will surely be one for the books!
Conclusion
You've ventured, snapped, and recorded; now savor the magical Orlando theme park euphoria. With these nifty tips, preserving your memories becomes an enchanting journey, not a daunting task.
So dig out those photos, dust off the souvenirs, and relive the thrill of the roller coasters.
But remember, the real magic lies not just in the captured moments, but in the shared laughter, joy, and awestruck smiles.
Here's to unforgettable Orlando adventures!