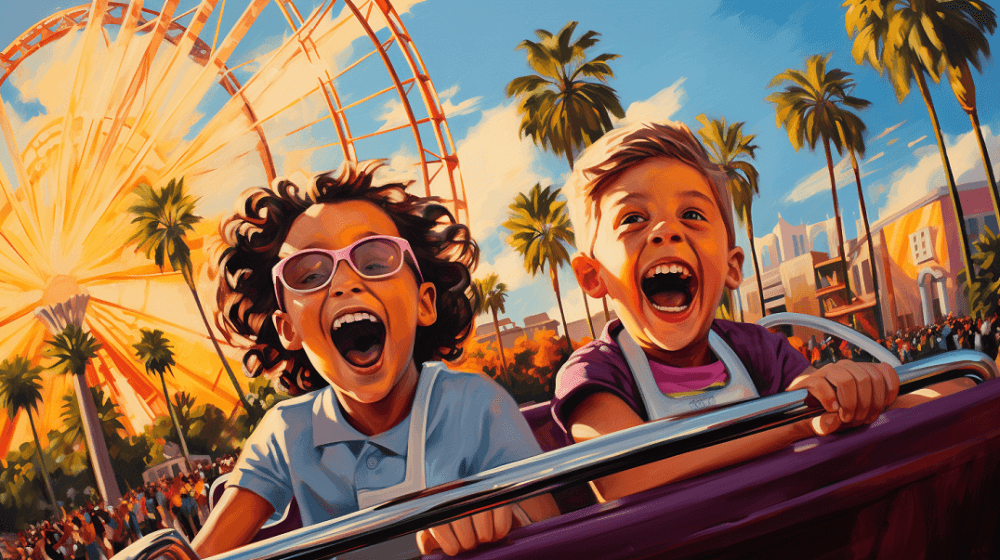 You're about to embark on a magical journey in Orlando's theme parks, with your little ones leading the way! Get ready to capture their wide-eyed wonder, infectious laughter, and priceless memories.
This guide will help you snap perfect shots, creating a vibrant photo album of your family's adventure. So, dust off your camera, tighten your sneakers, and let's dive into the world of child and baby theme park photography in Orlando.
It's time to make every moment count!
Capturing Magic: Disney World Through a Child's Eye
You'll find that capturing your child's first magical experience at Disney World through photographs can create memories that'll last a lifetime. Snap their wide-eyed wonder as they bite into Disney's culinary delights, like Mickey-shaped pretzels and ice cream bars. Their joy at meeting beloved characters up close is a must-capture moment.
Don't forget the nighttime spectacles! The fireworks over Cinderella's Castle or the dazzling parade of floats create a mesmerizing backdrop for your little one's awe-struck expressions.
But remember, it's not just about the perfect shot. It's about experiencing the magic together, making memories that you'll cherish way after the trip is over. So, keep that camera handy and prepare to see Disney World through a child's eyes.
Unforgettable Moments: Universal Studios With the Little Ones
You've marveled at the magic of Disney; now it's time to step into the thrilling world of Universal Studios with your little ones.
From meeting their favorite characters to exploring kid-friendly attractions, there's an unforgettable moment around every corner.
Character Meet and Greets
Don't miss out on the Character Meet and Greets; they're a must-do for any child visiting the theme parks in Orlando. Imagine the thrill your little ones will feel when they come face-to-face with their favorite characters. And it's not just about the pictures; it's about the memories. They also get Character Autographs a priceless souvenir to bring home.
The fun doesn't stop there; watch their eyes light up as they notice the subtle Costume Variations between the characters. Each character is unique and brings their own charm to the meet and greet. These interactions are sure to put a smile on your child's face and create lasting memories. Don't forget your camera; these moments are worth capturing!
Kid-Friendly Attractions
Kid-friendly attractions are plentiful, so your little adventurers won't ever run out of things to do and explore. From thrilling rides to engaging shows, Orlando offers a treasure trove of experiences.
Don't forget your park essentials – sunscreen, hats, and comfy shoes are a must to keep everyone happy and ready for action!
In between the fun, keep energy levels high with playful snacks. Grab a Mickey-shaped pretzel a bag of popcorn, or cool down with a refreshing Dole Whip.
And remember, it's not just about the rides. Take time to enjoy the parades, meet the characters, and capture those magical moments on camera. Orlando's theme parks are a world of wonder for kids – and grown-ups too!
Capturing Magical Moments
Capturing those magical moments won't be a challenge since every corner is filled with delightful surprises that'll make your heart flutter with joy. Imagine your little one's face lighting up at the sight of their favorite characters, the thrill of the rides, and the enchanting shows.
Don't just snap away; get creative with your camera angles. Try a bird's eye view or a worm's eye view; these unusual perspectives can make your photos more exciting.
After you've taken your shots, utilize photo editing techniques to enhance the colors, adjust the brightness, or even add some fun stickers. Remember, the goal is to make every image tell a story – a story of joy, laughter, and the magic of family.
SeaWorld: A Marine Adventure in Pictures
Next up on your family's magical photo journey is SeaWorld, an underwater paradise full of playful dolphins, majestic orcas, and curious sea turtles.
You're in for a treat with interactive exhibits, captivating animal shows, and thrilling underwater viewing experiences.
SeaWorld's Interactive Exhibits
You'll be amazed by the interactive exhibits at SeaWorld; they're not just entertaining but also educational. They're designed to engage your family's curiosity and foster a deeper understanding of aquatic conservation.
Interactive Feeding: You'll have a chance to feed and interact with dolphins, rays, and sea lions. It's a unique opportunity to connect with these charming creatures.
Aquatic Conservation Exhibits: Here, you'll learn about the importance of preserving marine ecosystems. It's a fun, educational experience for all.
Interactive Touch Pools: Get up close and personal with sea stars, urchins, and other fascinating marine animals. It's hands-on learning at its finest.
Animal Encounters: Meet SeaWorld's animal ambassadors and learn about their vital role in the ecosystem.
SeaWorld offers an unforgettable blend of fun, learning, and an appreciation for the beauty of marine life.
Animal Shows Captured
Now, let's venture into the thrilling realm of 'Animal Shows Captured'.
Imagine yourself on Jungle Safaris, witnessing the stunning spectacle of wildlife in their natural habitat. It's a terrific opportunity for your family to learn about animal conservation and the importance of preserving our planet's amazing biodiversity.
You'll see majestic lions, playful monkeys, and perhaps even a stealthy leopard. The kids will be utterly captivated, their faces lighting up with wonder as they see these animals up close. Don't forget to bring your camera to capture these unforgettable moments!
Enjoy the thrill of the safari ride and take home memories that'll last a lifetime. So, are you ready for an adventurous day filled with learning and fun?
Underwater Viewing Experiences
Diving deep under the water's surface, you're now in a whole new world teeming with vibrant marine life, aren't you? The oceanarium's magical setting offers unique photo opportunities but also presents certain challenges. Aquatic photography techniques are a must to capture the essence of this underwater wonderland.
Lighting: Underwater, you'll notice the light behaves differently. Practice adjusting your camera settings to capture the best shot.
Reflections: The glass of the oceanarium can cause reflections. Positioning yourself strategically can help eliminate this.
Focus: Fast-moving marine life can be hard to focus on. Patience and a steady hand are keys.
Perspective: Try different angles and distances. Close-ups can be as exciting as panoramic views.
Embrace the Oceanarium photo challenges, and you'll create unforgettable memories of your family's underwater viewing experience.
Unleashing Imagination: Photos From Legoland Florida
In Legoland Florida, your imagination's the limit when capturing those unforgettable moments. You'll find yourself marveling at the intricate Lego Sculptures, and the Ride Fun is like no other. Every corner you turn, every ride you go on presents a new opportunity for a memorable photo.
Here's a quick guide to help you plan your photo journey:
| Photo Opportunities | Description |
| --- | --- |
| Lego Sculptures | Amazing creations made entirely from Legos. |
| Ride Fun | Capture the joy on your kids' faces as they enjoy the rides. |
| Lego Building Stations | Kids fully immersed in their Lego creations. |
| Character Meet and Greets | Snap a photo with your favorite Lego characters. |
Don't forget to let your little ones take some photos too! It's their day, let them capture it their way.
Adventurous Snaps: Gatorland and Wildlife Photography
Switching gears to Gatorland, you'll find it's a whole new world of adventure and wildlife photography waiting for you to explore. This Florida wildlife conservation park offers a thrilling gaze into the world of gators, where you can witness a Gator feeding frenzy and capture it through your lens.
Here's what you can expect:
Unprecedented photo ops: From baby gators to massive adults, you'll get up close and personal.
Educational shows: Learn all about these magnificent creatures and their habitat.
Conservation efforts: Witness how Gatorland contributes to the protection of Florida's wildlife.
Adventurous activities: Take a zipline over the gator marsh or a swamp buggy ride.
Bringing your family to Gatorland isn't just a trip; it's an unforgettable adventure.
Tips and Tricks: Taking the Perfect Theme Park Photos With Kids
When you're trying to capture those perfect, candid moments with your youngsters at Gatorland, there are a few simple tips and tricks that can make a world of difference.
Think about your photo composition. Place your child off-center for a more interesting shot, or capture them against the backdrop of a towering gator statue.
Don't forget lighting techniques. Use natural light when possible, but beware of harsh shadows. If your little one is squinting into the sun, try moving to a different spot or wait for a cloud to pass.
The best shots often come from spontaneous moments, so keep your camera ready.
Conclusion
So, there you've got it! Isn't it amazing how a simple photograph can transport you back to those magical moments at Orlando's theme parks? Whether it's your child's wonder at Disney World or their thrill at Universal Studios, these snapshots are priceless.
Remember, it's not just about the perfect shot but capturing the joy and adventure.
So, pack your camera, embrace the spontaneity, and get ready to create unforgettable memories with your little ones!