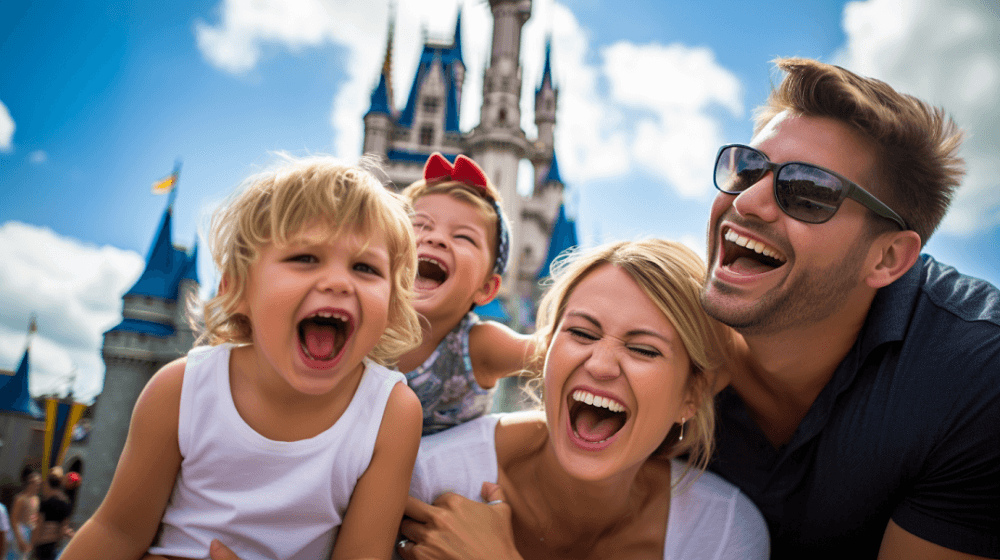 You'd think a day at Orlando's theme parks would be all about the rides, right? Wrong!
It's time to grab your camera and explore the magic through a different lens. Our custom photography experiences will let you capture not just the roller coasters, but candid moments, unique perspectives, and the pure joy of being in these amazing parks.
Let's turn your vacation into a visual masterpiece.
Ready to take your theme park experience to the next level?
Exploring Orlando's Top Theme Parks for Custom Photography
You're in for a treat as we delve into exploring Orlando's top theme parks for custom photography. Imagine capturing the enchanting Cinderella Castle at Magic Kingdom or the futuristic Spaceship Earth at Epcot. Your photography equipment essentials should include a good DSLR or mirrorless camera, wide-angle lens for those sweeping park landscapes, and a sturdy tripod for stability.
Nighttime park photography is a game-changer. The parks burst into a kaleidoscope of colors, with illuminated attractions painting a stunning backdrop. Experiment with long exposure shots to capture the magic of the fireworks above Sleeping Beauty Castle, or the neon glow of Tomorrowland after sundown.
The Art of Capturing Candid Moments at Theme Parks
In capturing candid moments at amusement centers, it's all about timing and a keen eye for detail. Your photography equipment becomes an extension of your vision. The right lens can frame a child's expression of pure joy against the colorful backdrop of a bustling theme park.
Notice the subtle changes in lighting that can transform an ordinary scene into a magical one. Watch as children's expressions shift from anticipation to exhilaration on their favorite rides.
Remember, it's not just about capturing smiles, but also the wide-eyed wonder, the nervous excitement, the unrestrained laughter.
You're not just taking a photo; you're telling a story. Each shot should breathe life, capturing the unique magic that can only be found in Orlando's incredible theme parks.
Package Options for Custom Theme Park Photography
Now that you've discovered the magic of candid theme park photography let's dive into the variety of package options available.
Just like the exhilarating twists and turns of a roller coaster, each package offers a unique journey tailored to capture your unforgettable moments.
Buckle up as we guide you in selecting the perfect photography package, ensuring your theme park experience is immortalized in vibrant, captivating images.
Various Photography Packages
They've got a variety of photography packages that'll suit your every need, whether you're looking for a simple portrait or a full-day photoshoot. You can select from a range of options, all while keeping an eye on your budgeting for photography packages.
Let's not forget the importance of getting the right photography equipment recommendations to capture those magical theme park moments.
With the right package, you can have a professional Orlando photographer follow you around the park, capturing your joy on each ride and your wonder at every spectacle. They'll use top-notch equipment to ensure high-quality shots. Even if you're on a budget, they've got packages designed just for you.
Get ready to immortalize your theme park adventure with stunning, professionally taken photographs.
Selecting Your Package
You'll want to carefully consider each option before settling on the package that's ideal for your needs and budget. Remember, budget considerations are crucial. You don't want to skimp, but you also don't need to splurge for the moon unless it's within your means.
Each package offers a unique experience, from the dazzling neon lights of a nighttime shoot to the picturesque backdrops of Orlando's famed theme parks. Consider the seasonal variations, too. Winter offers cooler temperatures and stunning holiday displays, while summer brings vibrant sunsets and bustling park life.
Feel the magic as your photographer captures your laughter amidst the fairy-tale castle or your awe-struck face as you meet your favorite character. It's not just a photoshoot; it's the creation of memories that'll last a lifetime.
Tips for Choosing the Right Photography Experience
Consider what's most important to you when selecting a custom theme park photography experience in Orlando, whether that's cost, photographer expertise, or unique photo opportunities. With Photography Budgeting in mind, remember that an investment in a skilled photographer can translate into priceless memories captured.
When planning your Photo Shoot Attire, think comfort and style. Orlando's theme parks are colorful and vibrant, so pick outfits that will pop against the backdrop. Don't forget to consider the weather – it can get pretty hot out there!
Imagine the sun setting over Cinderella's castle as you pose in your carefully chosen attire, a professional photographer ensuring every magical moment is caught on camera. It's not just about the photos, but the unforgettable experience. Choose wisely and your Orlando theme park photography session will be one for the books!
Unique Photo Opportunities in Orlando Theme Parks
In your search for unique photo ops, don't overlook the whimsical parades and enchanted nighttime shows that offer plenty of stunning backdrops. Orlando's theme parks are full of these magical moments, perfect for special event photography. The spectacle of lights, colours and characters can provide you with shots that are as enchanting as they're unique.
Here are a couple of photography gear recommendations to help you capture these moments:
A quality DSLR or mirrorless camera for stunning resolution and detail.
A versatile zoom lens to help you capture both the grandeur of the parade and the intimate details of the characters' costumes.
A sturdy tripod to ensure sharp images, especially in low-light conditions.
Making the Most of Your Custom Photography Experience
Stepping into Orlando's theme parks, you're not just entering a world of thrills, but a vibrant canvas for unforgettable snapshots. From Cinderella's Castle bathed in sunset hues to the bustling, alien streets of Star Wars: Galaxy's Edge, every corner is a potential backdrop for your story.
Maximizing your custom photography experience hinges on three factors: selecting a skilled photographer, pinpointing optimal photo locations, and mastering post-experience photo editing.
Choosing Your Photographer
You'll need to carefully select your photographer to ensure they can capture your theme park experience in Orlando perfectly. Consider the photographer's style, ensuring it aligns with your vision. Also, keep your photography budget in mind, as prices can vary significantly.
Here are a few key points to consider:
Style: Does the photographer's style match your desired aesthetic? Whether you prefer vibrant and colorful shots or a more subdued, vintage feel, finding a photographer who specializes in that style is crucial.
Experience: Has the photographer worked in theme parks before? Familiarity with the location can add an extra layer of magic to your photos.
Budget: Do their rates fit within your budget? Remember, you're not just paying for their time, but their expertise and equipment too.
Choosing wisely can turn your theme park visit into a timeless memory.
Optimal Photo Locations
Now that you've selected your photographer let's delve into the magical realm of choosing optimal photo locations.
Picture this: the enchanting spectacle of Cinderella's Castle, bathed in a waterfall of shimmering lights, providing an ethereal backdrop for your nighttime photography.
Or envision yourself immersed in the vibrant, colorful world of Toy Story Land, sharing laughs and smiles during character interactions with Woody and Buzz.
The possibilities are endless, each area of the park offering its unique charm and atmosphere. Your journey could take you from the lush, exotic jungles of Animal Kingdom to the futuristic landscapes of Epcot.
Each location is a stage set for creating memories, capturing not only your image but the story of your adventure.
The theme park is your oyster; let your imagination run wild.
Post-Experience Photo Editing
After all the fun's been had and the pictures are taken, it's time to dive into the world of post-experience photo editing. You've captured the joy, the laughter, the thrill, now it's time to refine those moments.
The impact of lighting on your photos can't be overstated. A well-lit shot is good but the magic, oh, it's in the editing!
Consider these editing software choices:
Adobe Lightroom: A fan favorite amongst many for its user-friendly interface.
Snapseed: This powerful mobile app can be your quick fix on the go.
Photoshop: For those who want to dive deep and personalize every pixel.
Conclusion
So, whether you're embarking on a magical journey in the Wizarding World or exploring the wild frontiers of Animal Kingdom, remember to make every moment count.
With the right photography experience, your Orlando theme park adventure can be more than a fleeting memory.
It can be an art form, immortalized in film, forever reminding you of the laughter, the thrills, and the magic that unfolded in Orlando's fantastical realms.