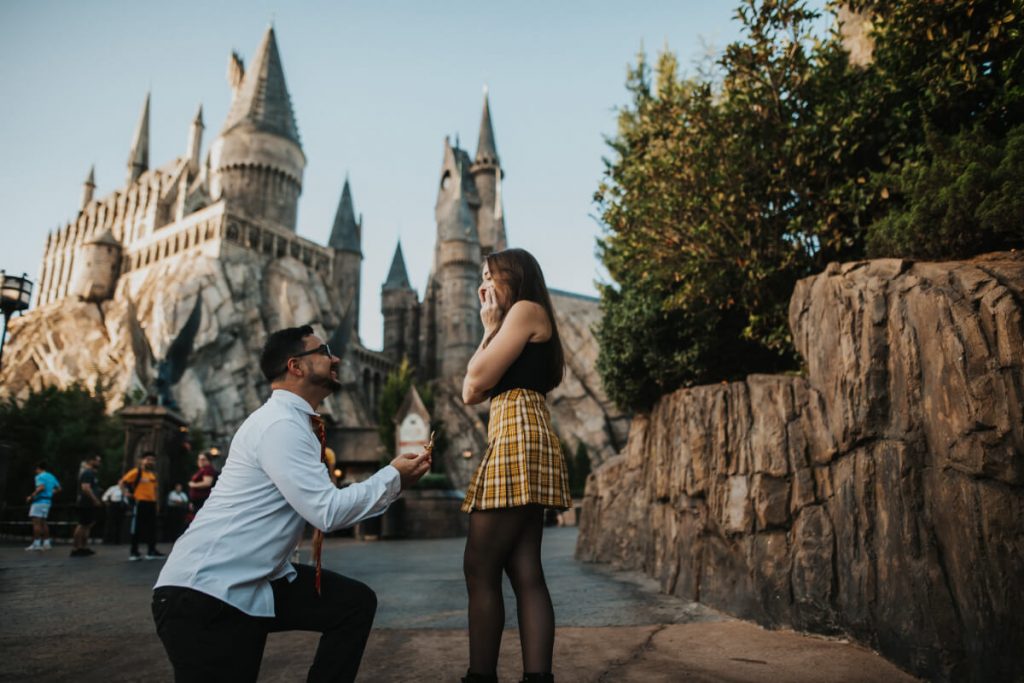 Do you want to plan a proposal that's totally unique and tailored to you?
Look no further than Universal's Wizarding World of Harry Potter!
Imagine kneeling on the ground before the majestic Hogwarts castle.
The spellbinding Hogsmeade village will act as your romantic backdrop.
It's an enchanted setting that will make your significant other feel like they are living in a fairytale.
What Better Way To Celebrate An Engagement, Than With A Vacation?
What better way to celebrate an engagement than with a photo shoot with a Universal photographer on vacation?
Not only will you have the opportunity to explore the magic of the Wizarding World of Harry Potter, but you will also experience all the thrilling rides and attractions that Universal Studios offers.
Imagine starting your day with a romantic proposal at Hogwarts, then spending the rest of the day exploring the park and making memories together.
With the variety of on-site hotels to choose from, you can continue the celebration and make it a vacation to remember.
So why settle for a traditional celebration when you can make your engagement an unforgettable and exciting experience at Universal Studios?
Proposing At Hogwarts – A Great Location for Potterheads!
Why settle for an ordinary proposal when you can make it
Who likes ordinary? Make your proposal an unforgettable and magical experience at the Wizarding World of Harry Potter at Universal Studios.
Impress your loved one with by showing they were really thought of with this most enchanting location to ask for their hand in marriage.
Put your wand inside your robe and head to Universal for a unique and unforgettable proposal experience.
If you're in need of an Orlando proposal photographer, drop us a line!
Recent Hogwarts Proposal Photos