One of the great things about photography is that it can be a way to capture memories that will last a lifetime. When photographing families, it's essential to consider the composition of the photo, as well as the lighting and background. You'll also want to ensure that everyone in the photo looks in the same direction, smiling and happy.
Here are some tips for photographing families!
Composition
When composing a family photo, it's essential to consider the height of each person in the photo. You'll want to ensure that everyone is visible and that nobody is being cut off at the edges of the frame.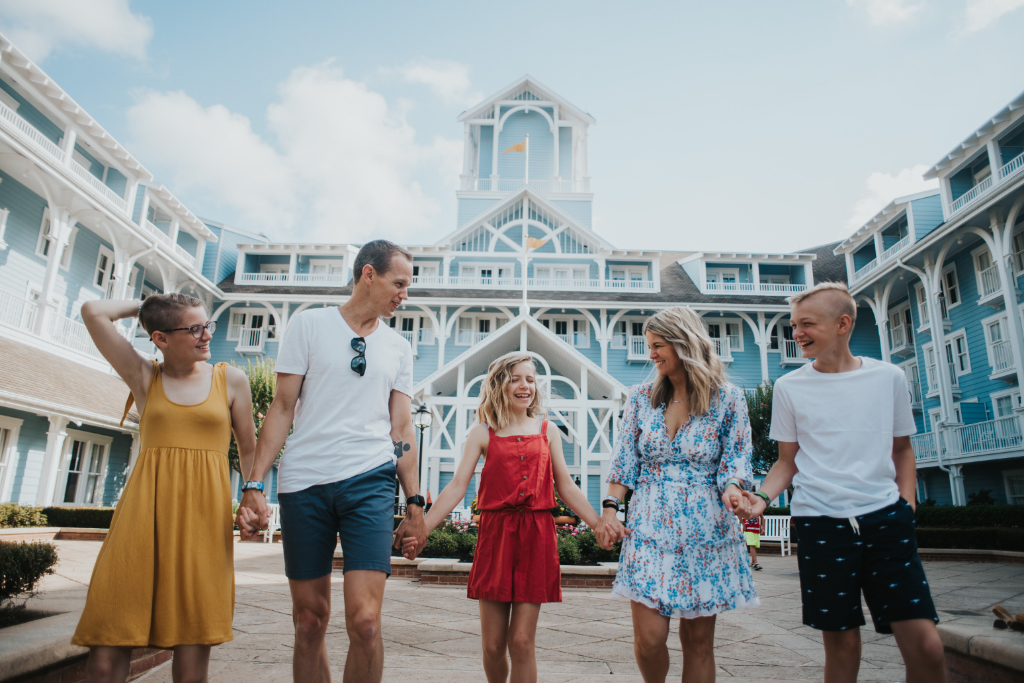 One way to achieve this is to have everyone stand on something different – for example, if you're outdoors, you could have people standing on steps or different levels of a hill. This will help create depth in the photo and ensure everyone is visible.
You'll also want to consider the placement of people within the frame. A good rule of thumb is to place taller people towards the back and shorter people towards the front. This will help create a sense of balance within the photo and ensure that nobody is obscured.
Lighting
Good lighting is essential for taking great photos, regardless of who or what you photograph.
When taking family photos, you'll want to avoid direct sunlight, which can create harsh shadows and squinting eyes. Instead, try to position yourself so that you're taking advantage of soft, diffused light – for example, standing in the shade of a tree on a sunny day.
If you're indoors, try not to use flash, as this can be harsh and unflattering. Instead, look for areas with plenty of natural light from windows.
Background
When taking family photos, paying attention to your background is essential. A busy or cluttered background can distract from the subjects of your photo, so try to find a spot with a simple background that isn't too distracting.
If you're outdoors, look for an area with clean lines and neutral colors – avoiding objects like trees or powerlines that can appear awkwardly placed in your photo. If you're indoors, look for an area with a solid-colored wall – avoid patterns or busy wallpaper that can be distracting.
Final Tips
Finally, here are some general tips for taking great family photos:
Making Sure Everyone is Looking in the Same Direction
One of the most critical things in a family photo is ensuring everyone looks towards the camera in the same direction. This can be tricky, especially with small children or babies.
One way to help make this happen is to have someone stand off to the side and make silly faces or noises to get everyone's attention. Once you have everyone's attention, count down from 3, so everyone knows when the photo will be taken.
Get Down on Their Level
When taking family photos, getting down on their level is vital, especially when photographing small children or babies. This will help them feel more comfortable and also help you capture their cute little faces in the photo.
Getting down on their level lets you get a closer view of them and their expressions. If you are photographing from above, they may feel like you are looking down at them, making them feel uneasy. So be sure to get down on their level and snap some great shots of the whole family.
Use Props!
Props can add a lot of personality to your family photos. Some great prop ideas include hats, glasses, balloons, and banners. Get creative and have fun with it! Adding props to your family photo can be a great way to show off your personality and have some fun.
If you're stuck for ideas, try thinking of items that represent something about each family member. For example, if someone in the family loves sports, you could use a baseball bat or glove as a prop. Or, if someone is musical, you could use an instrument.
You can also use props to represent special interests or hobbies. For instance, if someone in the family enjoys scrapbooking, you could use a pile of pretty paper as a prop. Get creative and have fun with it!
Relax and Have Fun!
The best family photos are usually taken when everyone is relaxed and enjoying themselves. Take time to goof around before taking the photo, so everyone is in a good mood. It'll show in the photo, and you'll have great memories and a great picture.
Wrapping Up Family Photography Tips
Family photos are a great way to capture memories and moments with your loved ones. By following these tips, you can ensure your next family photo is one you'll cherish for years to come!