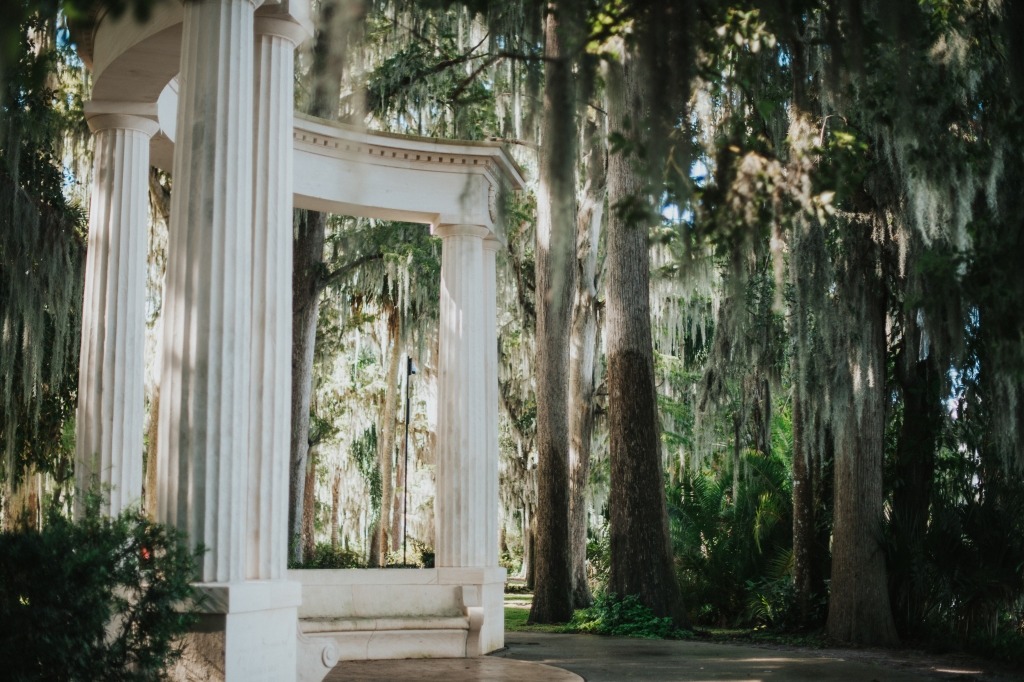 One of the top attractions in Winter Park, Florida, is the Kraft Azalea Gardens. Located near Orlando, it is a scenic public 5-acre park that is just minutes from downtown. Adding to the beauty of the park, it also sits at the shore of Lake Maitland, the largest of the six lakes in the Chain of Winter Park.
Kraft Azalea is famous for picnicking and general relaxation. It has a small dock open for fishing and has trails incorporated into the park for short walks. What makes this park a highly visited location, though, is the Exedra monument made of stone near the lake's edge. This beautiful arc monument is a perfect frame for photography and because of this the park has always been popular for weddings and photoshoots.
As a company, we admire the beauty of this park and its ability to accentuate the beauty of people. Wanderlust Portraits is a leading Orlando photography service specializing in outdoor shoots, and we offer Azalea Park wedding and engagement photography for Florida residents who want to capture their special moments in a unique way.
Kraft Azalea Gardens Engagement Photos – UPDATED 2020
A hidden gem nestled in Central Florida's neighborhood, Kraft Azalea Gardens is the perfect space for photography. The Greek colonnade under the canopy of trees would make you feel like you have just uncovered a lost civilization. The beautiful azalea-filled park was donated to the city by the Kraft family, and it has, ever since, remained the preferred location for destination weddings, intimate weddings, and family portraits.
Kraft Azalea is one of our favorite locations for Orlando engagement photography. We have photographed numerous couples who want to capture the most beautiful and precious day of their lives. Flowers, plants, and oak trees illuminate the fairy tale-like gardens located on the gorgeous lake. There can be no better setting for opening a bottle of champagne and exchanging rings than this garden!
We know how to use the beauty of the garden and lake to portray the elation of the engaged couple. We are also able to suggest the best dresses, poses, and props to make your engagement photos stand out from the ordinary. We use the natural resources in the park to their optimum, such as utilising the flowers, plants, water, and trees to complement the love and connection shared between the couple. This outdoor location and our skills in photography help us to consistently produce realistic artwork that you can cherish for a lifetime.
AMAZING Kraft Azalea Gardens Photos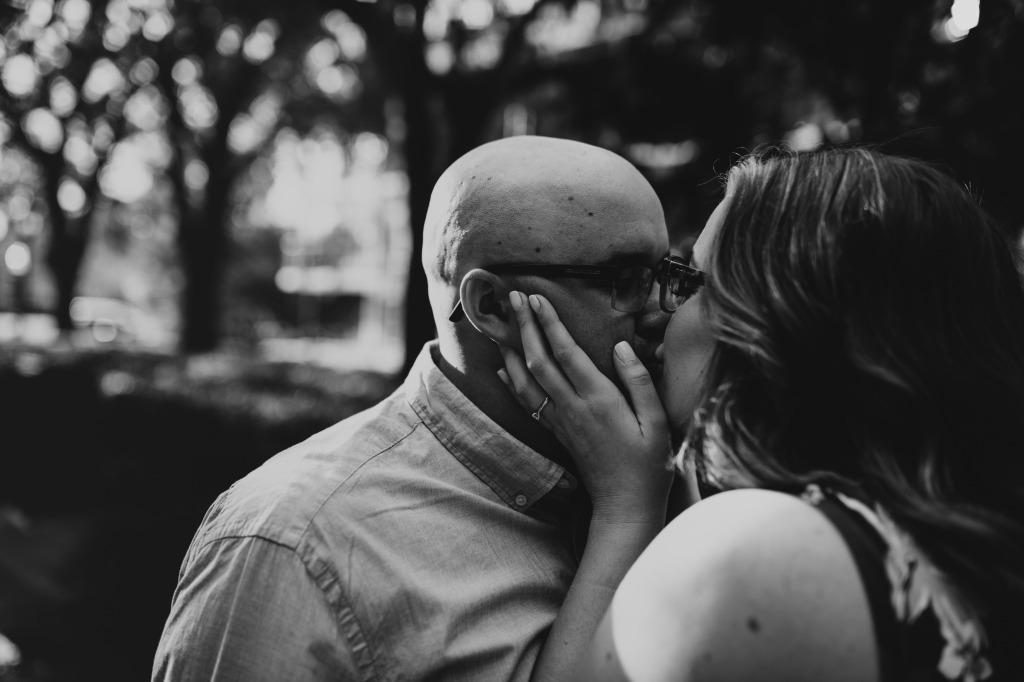 Kraft Azalea Gardens is an awe-inspiring location. From the ancient stone canopy to its grand cypress trees, these gardens are truly magical. The land also has a small dock that gives you a wonderful view of the mansions that are situated by the water. The beauty of these natural scenes would surely add to the beauty and love you want to capture and treasure for life.
Whether you are looking for wedding or engagement photography or just want a casual family portrait, Kraft Azalea Gardens are a great choice for on-location photography. If you love nature and enjoy exploring nature's elements, this park will give you the best photography experience. This setting would help you express yourself to the fullest and showcase some of the emotions and moments you want to photograph.
We are a reputed Orlando photography company with years of experience in shooting outdoors. Kraft Azalea Gardens' photos would give you beautiful artwork to decorate your homes with and will remind you of your love for nature whenever you see them. If you want to see and capture the gardens' highest beauty, you should choose to go in the spring when the flora is in full bloom.
Kraft Azalea Gardens Wedding Package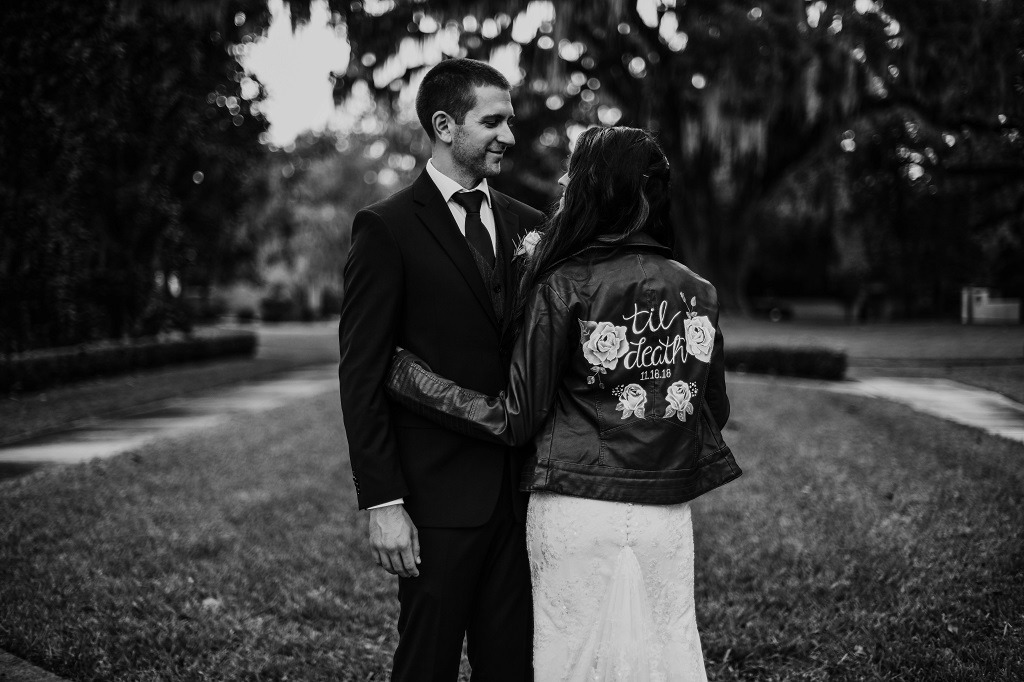 A popular destination for wedding ceremonies, Kraft Azalea Gardens [1], is a public park open year-round from 8 a.m. to dusk. It is a secluded, unique, 5-acre area of land shaded by grand cypress trees. It is a highly popular place for sunset wedding ceremonies and can be reserved for private wedding events with up to 20 guests.
Every day, couples exchange vows in front of the colonnade which frames the mesmerizing views of the park and the lake. You can book your wedding at this location with one of the providers serving the Orlando area. Kraft Azalea Gardens' wedding package can include the venue rental for guests, photography, sound systems, and bouquets.
You can customize your wedding package to suit your needs and budget. Most packages give you options of floral decorations, music choice, photography duration, car rental, wedding cake, and other props for photography. These packages take care of everything so that your Kraft Azalea Gardens wedding is as easy and beautiful as possible.
There are many options when it comes to choosing the right wedding package for this location. Professional services would offer you all the facilities and high-quality photography at affordable rates to make sure your big day is as beautiful as the park itself!
References
https://cityofwinterpark.org/departments/parks-recreation/parks-playgrounds/parks/kraft-azalea-garden/