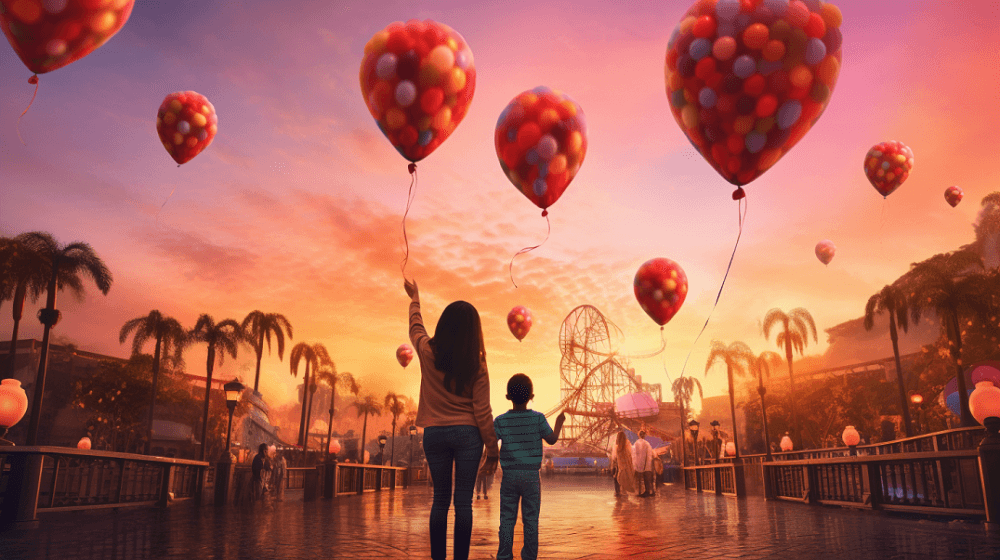 Imagine you're standing before Cinderella's Castle, grinning as your kids clutch their new Mickey ears. You're in Orlando, the theme park capital of the world, and you're ready to make memories.
But how do you capture these moments perfectly? Don't worry; we've got you covered! This guide will arm you with tips and tricks to nail your Orlando amusement park photo sessions.
So buckle up; it's going to be a magical ride!
Understanding the Importance of Amusement Park Photo Sessions
You're probably wondering why amusement park photo sessions are so important. Well, consider the Photo Session Benefits. You're not just taking pictures; you're capturing candid moments that you'll cherish forever.
Imagine walking down Orlando's lively amusement park streets, the vibrant colors, the infectious laughter echoing around. Now, imagine having high-quality photos of your priceless reactions at the peak of a thrilling ride or while enjoying cotton candy. That's the magic of these photo sessions.
They capture the raw, unfiltered joy of you and your loved ones immersed in the enchanting world of amusement parks. The excitement, the surprises, the pure fun – all captured through the lens for you to relive whenever you want.
How to Prepare for Your Orlando Amusement Park Photo Session
Before heading off on your adventure, it's crucial to plan your outfits and props to ensure you capture the best memories. Your costume choices should be reflective of your personality and the unique vibe of Orlando amusement parks. Be creative, but remember to consider the weather. Orlando's climate can be quite unpredictable.
Here are three key points to remember:
Costume Choices: Choose outfits that are comfortable yet stylish. Don't be afraid to incorporate props like Mickey Mouse ears or Harry Potter wands to bring more magic to your photos.
Weather Considerations: Always check the forecast. Pack a light jacket for unexpected chills or a hat for those sizzling sunny days.
Comfort is Key: You'll be walking a lot. Make sure your shoes are comfy, and your clothes are loose-fitting.
With proper planning, your photo session will be picture-perfect!
Tips and Tricks for Capturing the Best Amusement Park Photos
In capturing those magical memories, it's essential to consider a few tips and tricks to get the best shots.
Nighttime Photography Techniques can transform the twinkling lights and glowing attractions of an Orlando amusement park into a mesmerizing backdrop. You'll need to master a slow shutter speed, use a tripod for stability, and experiment with different apertures to capture the park's enchanting nocturnal beauty.
Capturing Motion Shots is another technique that will add dynamism to your photos. Imagine freezing a thrilling roller-coaster ride mid-motion or capturing the graceful arc of a carousel horse. To do this, you'll need to perfect your panning skills, adjust your photo's shutter speed, and practice timing your shots.
The result? A vivid, unforgettable snapshot of your amusement park adventure.
Highlighting Popular Orlando Amusement Parks for Photo Sessions
When it's time to put those photography skills to the test, there's no better place than some of the most popular thrill-ride destinations in Florida for your next shoot.
Universal Orlando Resort: This theme park offers a variety of backdrops, from the magical Wizarding World of Harry Potter to the action-packed Jurassic Park area.
Walt Disney World Resort: Capture the enchantment of Cinderella's castle or the futuristic vibes of Epcot's Spaceship Earth.
SeaWorld Orlando: Get up close with marine life or snap a shot in front of the breathtaking roller coasters.
However, cost considerations for park photo sessions are crucial. Remember, entry fees, parking, and equipment transportation costs can add up. So, plan your budget accordingly. Choosing the perfect amusement park backdrop isn't just about aesthetics; it's also about cost-effectiveness. Make your shoot memorable and affordable.
Navigating Photo Sessions at Orlando's Water Themed Parks
You'll find that Florida's water-themed attractions provide a unique, splashy backdrop for your snaps, but you'll need to be cautious with your equipment around all that H2O. The vibrant pools, dazzling water slides, and spray-soaked attractions create stunning visuals, but they also pose a risk to your gear. Waterproof camera options are your best bet here. From GoPro Hero to Nikon Coolpix, you'll find a range of water-resistant equipment that'll keep your photography on point, even amid the drenching fun.
As for the poses, think splash-friendly. Maybe it's a mid-air leap off a diving board, a joy-filled twirl in a shallow pool, or a playful water fight capture. You'll create memorable, high-energy images that truly embody the spirit of Orlando's water parks.
Reviewing Your Orlando Amusement Park Photos: From Prints to Digital
Now that you've navigated through the whirlwind of Orlando's water-themed park photo sessions, it's time to delve into the exciting phase of reviewing your captured memories. You're about to transition from tangible prints to the digital world. Here's a peek into what awaits:
Print Quality Comparison: You'll be amazed at how your photos pop with vivid colors and crisp details in digital form compared to their print counterparts. The contrast is simply astounding.
Digital Storage Options: No more worrying about losing or damaging physical photos. Digital storage offers a safe, efficient, and easily accessible way to preserve your precious memories.
Ease of Sharing: With a simple click, you can share your joyous moments with friends and family, no matter where they are.
Embrace this digital journey and relive your Orlando amusement park adventures in a whole new light!
Conclusion
So, you've conquered the thrill of Orlando's amusement parks and captured it all in photos. Remember, planning is key, and your creativity is your best tool.
Whether you're posing by Cinderella's Castle or splashing at SeaWorld, each photo tells a unique story.
Review your photos, relive your experiences, and delight in the memories you've made.
Orlando Amusement Park photo sessions are indeed worth every shot!