Jump Links:
Orlando Elopement Photography – Where To Start?
Welcome to the wonderful world of elopements! Not only do you get to say your wedding day vows in a beautiful location, but you also get to avoid the stress and chaos that comes with planning a big wedding. What's a better way to capture all those special moments than with an elopement photographer? In this article, we'll be diving into the ins and outs of casual wedding photography, from choosing the perfect location to hiring the right professionals. So grab a glass of champagne and let's get started on planning the best day of your life!
Orlando Elopement Location Ideas
When it comes to choosing the perfect location for your elopement, Central Florida has no shortage of options. From picturesque beaches to enchanting gardens, destination weddings and locals have something for every couple's taste. But how do you choose the perfect location for your wedding? Well, it really depends on your personal style and what you envision for your big day. The key is to pick a spot that feels special to you and your partner and that will make for beautiful photos. So, before you get in the car to go location scouting, here are a few ideas.
Central Florida Elopement Photographer Shares 6 Location Ideas
So you've popped the question, and you've gotten
engaged
; the next step is to tie the knot! With a Florida elopement/wedding, not only do you get to say your vows in a beautiful dream location, but you also get to avoid the stress and chaos that comes with planning a big wedding. Whether you're looking for a beautifully lit, tropical paradise or a fairy-tale setting, we've got you covered.
1. Wizarding World of Harry Potter, Universal Studios
This is by far the most popular location where we shoot elopements at. Imagine getting married in the magical world of Harry Potter, surrounded by iconic wizarding locations such as Hogwarts Castle, Hogsmeade Village, and Diagon Alley. The Wizarding World of Harry Potter at Universal Studios is truly unique, full of enchanting moments ideal for custom casual weddings.
2. The Romantic Bok Tower Gardens
Bok Tower Gardens
is a beautiful botanical garden located in Lake Wales, Florida. The garden features a 205-foot-tall Singing Tower carillon, which provides a beautiful background for your casual wedding ceremony. Bok Tower also offers various gardens with different types of flora, perfect for an intimate and natural ceremony.
3. Clearwater Beach Photography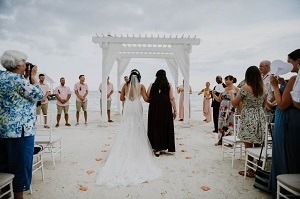 Clearwater Beach is a stunning location for beach elopement. The beach is known for its white sandy beaches and crystal clear waters, making it the perfect location for a romantic and intimate ceremony.
4. Cocoa Beach Photoshoot
Cocoa Beach is another great option for a laid-back beach wedding. Known for its beautiful sunsets, Cocoa Beach is a perfect location for a sunset ceremony. Home to the famous Cocoa Beach Pier, which also offers a unique and picturesque setting for your casual wedding. Being an outdoor location, it's perfect to
bring your dog
to be included in the session.
5. Leu Gardens, Orlando, FL
Leu Gardens is a beautiful botanical garden located in Orlando, Florida. Filled with various types of flowers, shrubs, and trees, Leu Gardens makes the perfect location for a natural and intimate ceremony. Centered in the Gardens is a large lake, which can provide a beautiful background as another option.
6. Lake Eola Park – Common Pick for Orlando Wedding Photographers
Lake Eola Park is a beautiful urban park located in the heart of Florida. The lake itself offers a picturesque background for your ceremony. Choked and full of a variety of outdoor spaces, the park includes a gazebo that can be used for your ceremony.
7. Orange County Courthouse for Orlando Elopment
Allow us to capture the act as it happens – officially. There are many options in the surrounding area to make great memories on the day you commit your life to your partner.
4 Tips for Hiring The Right Elopement Photographer in Orlando For Your Bridal Party
Hiring a wedding photographer is one of the most important decisions you'll make when planning your elopement. After all, your photo expert will be the one capturing all those special moments that you'll treasure for a lifetime. But where do you start when looking for the right Florida elopement expert?
1. Ask Your Orlando Elopement Photographer Questions
First things first, it's important to ask the right questions when interviewing potential photographers. Ask about their experience shooting elopements, their shooting style, and if they have any specific packages for elopements.
2. Review Portfolio Photos & Images
It's also a good idea to review their portfolio to get a sense of their style and see if it aligns with your vision. A professional photographer will be able to capture your love story on your day and make sure that you have beautiful photos to look back on for years to come.
3. Your Elopment – Your Rules
When it comes to choosing who to work with, don't be afraid to put your personality into it. It's important to choose someone who you feel comfortable around and who you know will be able to capture your unique style. Remember that your photographer will be with you throughout your elopement day, so it's important to make sure you pick someone who you'll enjoy spending time with.
4. Ask Your Central Florida Photographer For References for Weddings
Don't be afraid to ask for references or to speak with past clients; it's always a good idea to get a sense of what it's like to work with any professional before you book.
Planning Casual Weddings or Elopement in Orlando, FL!
Once you've chosen your location, it's time to start planning the details of your intimate wedding. One of the most important things to keep in mind when planning your Florida elopement is creating a timeline. This will ensure that everything runs smoothly on the big day and that you have plenty of time for photos.
What Is Your Vision for your Orlando Elopement Photographer?
It's also a good idea to communicate your vision. Share with them the look and feel you want for your elopement, whether it's romantic and intimate or fun and laid-back. This will help them understand your preferences and capture the perfect shots.
Don't Forget to Have Fun
Eloping is all about celebrating your love in a way that feels true to you and your partner. So, take a deep breath and enjoy planning one of the most special days of your life.
Final Thoughts from an Orlando Elopement Photographer
There you have it, folks! The ins and outs of eloping in Orlando, from choosing the perfect location to hiring
the right photographer
. We hope this article has inspired you to think outside the traditional wedding box and consider an elopement for your special day. Remember, elopement is all about celebrating your love in a way that feels true to you and your partner. Cheers to love and happiness!
Recent Orlando Elopement Photography Examples