The city of Cocoa has a plethora of beautiful locations for you to capture your special day. Porcher House is one of the most elegant and romantic of these locations, offering a unique venue for big events such as wedding ceremonies and receptions. The atmosphere and ambiance of this setting is so special, bringing an elegant historic style to the modern world. Situated in the heart of Cocoa, the Porcher House can be reserved for parties, weddings, meetings, and other special events.
It is a hidden gem in the middle of a historic city. Built-in 1914 as both a home and hotel, it is now open to the public for visits and to be used for events, parties, and shoots. When you walk into the building, the gorgeous oak floors and ornate windows will confirm that this is the perfect setting for your wedding photography.
AMAZING Porcher House Wedding Pictures
The classical architecture of Porcher House is built in-keeping with Florida's nature. From the coquina rock to the teakwood staircase, each intricate detail fits perfectly. Using neutral colors and minimalist decorations, Porcher House radiates a simplistic yet stunning elegance.
Porcher House is a fantastic venue to tie the knot; plus, it is perfect for capturing the most beautiful moments you will ever have in your life. Having your wedding pictures taken at Porcher House will guarantee the experience will be exciting and the product will be different from other formal weddings.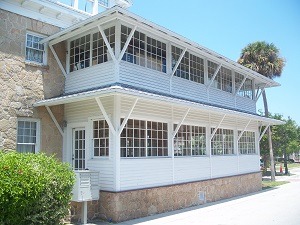 There are huge stately columns at the center of the building which create a beautiful backdrop. These artifacts would undoubtedly add a unique charm to your wedding pictures.
A foyer space sets the stage, greeting the guests for the reception with a design that is grand yet welcoming. The hall has a traditional design with hardwood floors all over.
This sophisticated timelessness and elegance of the intricate details would make your wedding, as well as the accompanying photography, truly memorable.
Cocoa Village Wedding, FL
The Cocoa Village offers a number of  facilities that are integral to a successful wedding.  For example, some of the packages include set up of tables and chairs, an attendant on-site for assistance, one-hour rehearsal time, a walk-through of the facility to review event setup, and vendor recommendations.
You can choose from Porcher House, Civic Center, and the Riverfront Park for the wedding ceremony and reception. Based on your choice of venue, as well as your additional package choices, the price will vary accordingly. All the facilities provided by the venues are available with rental, so that you can enjoy and relax without having to worry about arrangements. This covers all basic amenities and additional services to make your big day as enjoyable as possible.
Porcher House Wedding Prices – Updated for 2020
Porcher House is one of the most beautiful and romantic locations for weddings. It is at the heart of the historic Cocoa village. The history of this area undoubtedly makes it the right setting for a vintage Florida-themed wedding. The combination of outdoor and indoor beauty means that your ceremony can take place across different environments. The tented historic venue has everything you would want to host a perfect ceremony with your special guests. The Porcher House can accommodate 125 people with a seating arrangement for 85 people.
The Porcher House allows you to host a wedding reception or ceremony with a seating capacity of up to 85 and standing room of up to 125 people. While the cost of a Porcher House wedding varies on the basis of the services and amenities you choose, it is certainly an affordable way to experience your special occasion [1]. You can book the site for a wedding ceremony for $350, while the reception booking costs $900. Additionally, Porcher House offers a combined wedding package for $1000, including rental for an entire day. Therefore, you can have your reception and ceremony there, and this also includes set up, rehearsal, packing up, and event and kitchen use.
You can also use the indoor event area, ceremony area, and reception area for this price. If you want to use the outdoor space as well, you need to pay an extra $200. This brick area of Porcher House is a wonderful addition if you can afford it. The outdoor area has a capacity of 150 guests, both for the ceremony and reception. You will also have the option of utilizing the venue's florists, caterers, and photographers. Combining all of these services will make your wedding plan easier
Photographers in Cocoa, FL
While there are many photographers available in Cocoa, FL, not all of them are equally impressive. It is important to choose a professional service, so that you can make sure your special event is documented exactly the way you want. An experienced photographer should have knowledge of venues in Cocoa Village, as well as having the expertise to produce the right shots based on you and the setting.
We are a leading photography service in Cocoa and have been serving the area with beautiful engagement and wedding photo shoots for years. We also have substantial experience in running family portrait and vacation photo sessions. Therefore, we are highly experienced in capturing the beauty and history of Cocoa Village, coupled with the love, connection, and celebration that you want to treasure for a lifetime through the artistic medium of photography.
Using our skills and dedication, we are able to capture your precious moments in some of the most outstanding areas in Cocoa, FL. Together, we help produce a piece of art that decorates your home and fills your heart with joy whenever you see it. Whether you are looking for a fun-filled vacation shoot or planning a wedding ceremony at one of the most romantic settings in Cocoa Village, we have you covered with our professional photography and our competitive rates. We will also ensure that this experience is as relaxed and enjoyable as possible, no matter the occasion.
Cocoa Beach Photography
A fabulous attraction in Cocoa, FL, the Cocoa Beach offers a clean beach with golden sand and a wide range of natural beauties to explore. Several residents and visitors frequently visit the beach for a fun-filled day with the family, and many want to capture the beauty of nature alongside their loved ones through photography.
We can capture your family's fun in the sun with our professional Cocoa Beach photography service. With the extensive experience we possess, we can produce fun, color-filled pictures. These beautiful keepsakes will help remind you of the joy that you and your family had at this moment. We specialize in beachside portraits and can capture candid shots to give you a chance to remember these moments in a realistic form.
References
https://www.cocoafl.org/Facilities/Facility/Details/1