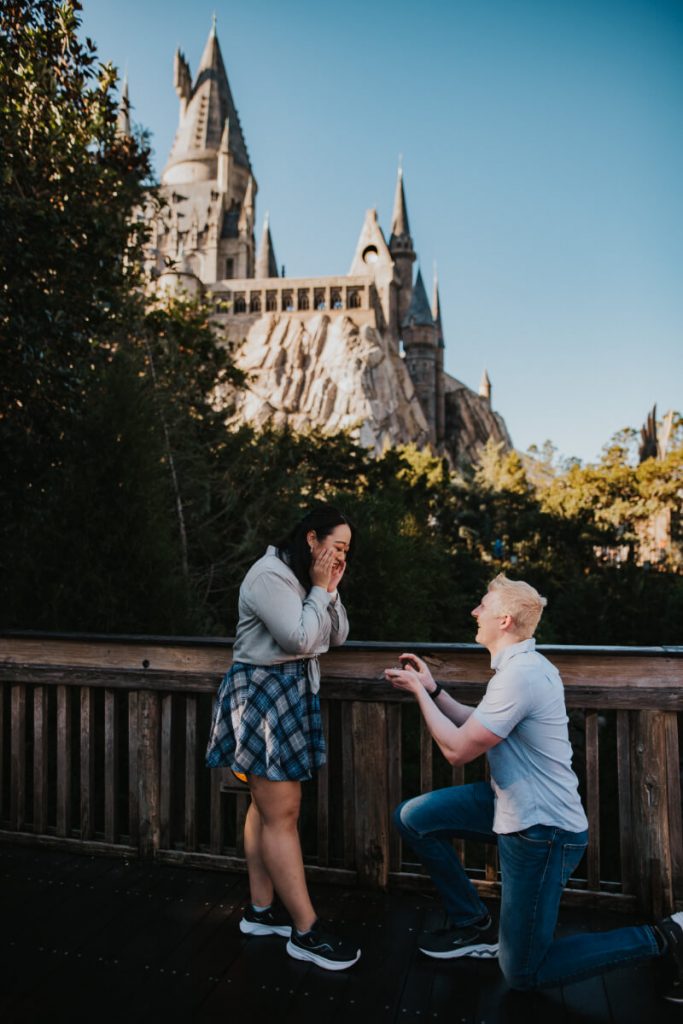 So I can confirm, the bridge overlooking Hogwarts Castle is definitely the most requested and highly sought-after surprise proposal location within the Wizarding World of Harry Potter at Universal Orlando resort.
If you are thinking about this as a future location to propose, LOOK NO FURTHER, I am your girl!
Austin contacted me several days before his trip to see if I was available, and we made it happen!
Surprise Proposal In Front of Hogwarts Castle
In addition to planning and making sure you know exactly where to go, all of my proposals include a little jaunt around Hogsmeade after the ring is secure.
This includes photos in front of some of the cutest and most iconic backdrops for any Harry Potter fan!
Adding a stop into the Hogshead for a celebratory Butterbeer can be arraigned 😉
If you want a more private location with castle views, I also know several more, so if you are in the pre-planning stages, reach out and we can set up the engagement of your dreams!
If you're looking for more information and examples, be sure to visit our Universal Studios photography page!
Highlights from This Recent Univeral Studios Photography Shoot
An Orlando photographer with over 10 years of experience, specializing in natural light. Angel aims to capture genuine moments through minimal posing and directives, with an emphasis on capturing authentic smiles, laughter, and love. Angel's Wanderlust Portraits has extensive experience in lifestyle photography for many occasions including family, engagement, events, maternity, newborns, and weddings. If you have specific ideas or would like suggestions, please do not hesitate to reach out!