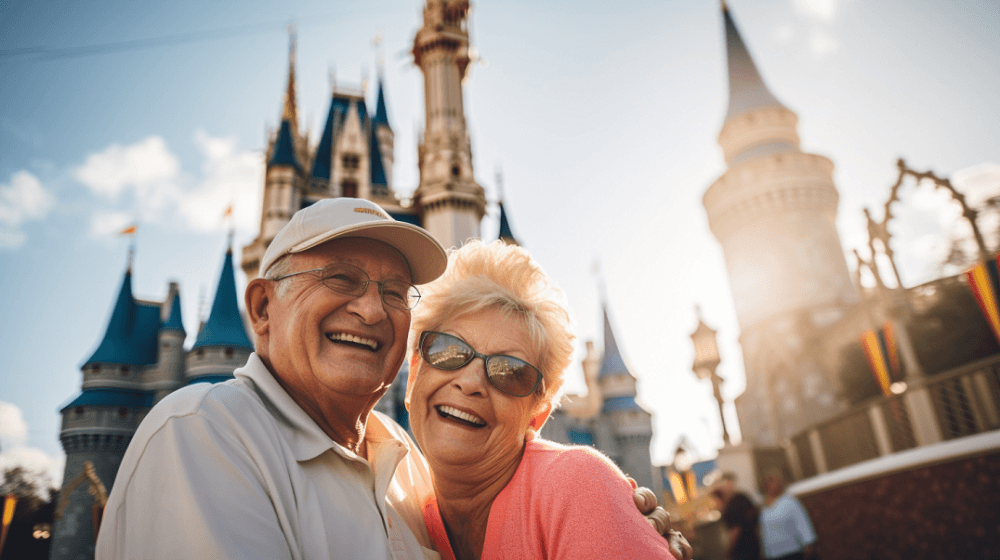 You're not just any high school senior; you're a thrill-seeker, a roller-coaster rider, and a theme park aficionado!
Why settle for a standard studio backdrop when you can immortalize your high school days with senior portraits at Orlando's theme parks?
Let's get you grinning in front of Cinderella's Castle or smirking by Seuss Landing.
Who says you can't combine fun and photos?
Let's dive into the magic and mayhem and make your senior year truly unforgettable!
Choosing the Ideal Orlando Theme Park for Your Senior Portraits
You've got quite a decision to make when it comes to choosing the ideal Orlando theme park for your senior portraits. Park selection considerations should go beyond fun rides and character mascots. You need to consider the park's ambiance, backdrops, and the time of day for the perfect lighting.
Visualize yourself at Magic Kingdom, with the iconic Cinderella's Castle in the background. Or perhaps, you're more of an adrenaline junkie, and Universal Studios, with its dramatic cinematic landscapes, suits your style better.
But remember, photography permissions are crucial. Not all areas in parks are accessible for portrait sessions. Always contact the park's administration and secure proper permissions. That way, you'll capture your memories without a hitch, making your senior portraits truly magical.
Tips for Capturing Stunning Photos at Orlando Theme Parks
Don't forget to leverage the natural lighting during golden hours for an ethereal effect in your shots. This is a prime time to add depth and warmth to your portraits.
Your photo equipment choices can also greatly affect the outcome. Opt for a DSLR or mirrorless camera for greater control over your shots.
Incorporating park features into your shots can add a unique element. Consider:
Capturing the magical Cinderella Castle in Magic Kingdom as a backdrop.
Use vibrant colors and unique architecture in Islands of Adventure to make your portraits pop.
Utilizing the vintage Americana charm of Hollywood Studios for a classic look.
Dressing Appropriately for Your Theme Park Photo Session
When it comes to dressing for your photo session, it's crucial to blend style with comfort so you won't have to compromise on either. Remember, Orlando's theme parks can be vast and bustling. So, wear shoes that'll withstand all the walking, yet still match your outfit.
Now, let's tackle the 'Comfort Versus Style' debate. Loose, breathable fabrics are your friends in the Florida heat, but don't let comfort overshadow your style. Choose pieces that reflect your personality and suit the park's vibe.
Lastly, never underestimate 'Weather Considerations'. A light, waterproof jacket is a smart addition to your bag. It'll shield you from sudden showers and provide an extra layer when the sun goes down.
Dressing right can make your theme park photo session a memorable experience.
Best Time to Shoot Senior Portraits at Orlando Theme Parks
It's crucial for you to identify the best shooting hours at these amusement hubs when planning your graduation photoshoot. Key factors like park lighting and crowd management play a pivotal role.
Early mornings offer soft, diffused light that flatters every skin tone, plus crowd numbers are low.
As evening rolls in, you'll find the park lighting transforming the spaces into magical realms, providing unique backdrops for your pictures.
Here's a snapshot of what you can expect:
Dawn's first light painting is a fresh, hopeful start to your future.
Midday's vibrant energy reflects your youthful spirit.
Twilight's captivating glow mirrors your transformation into adulthood.
Making the Most of Your Theme Park Photo Session Experience
Beyond just getting great photos, you're likely wanting to truly enjoy your time at the amusement hubs and make the most of your photo session experience. Navigating park crowds can be challenging, but with good planning, it's manageable. Incorporating photo session props can add a creative touch to your pictures.
Here are some tips to help you:
| Tips | Why It's Important | Examples |
| --- | --- | --- |
| Choose off-peak hours | Less crowded, better photos | Early morning, late evening |
| Bring props | Add personal touch | Your school banner, favorite book |
| Scout locations | Variety in background | Iconic landmarks, quiet corners |
| Wear comfortable clothes | Ease of movement | Loose fitting clothes, comfortable shoes |
| Have fun | Make memorable moments | Stay relaxed, enjoy the rides |
Conclusion
In conclusion, nothing can beat the exhilaration of a senior portrait session at an Orlando theme park.
Imagine the roller-coaster backdrop, the magical castle behind you, or the iconic Ferris wheel.
It's not just a photo session; it's an adventure!
So slip on your best outfit, pick the perfect time, and get ready to make some unforgettable memories.
Trust us; your photos will be the talk of the town, making even Cinderella green with envy!