An entirely different way that brides and grooms choose to express themselves is to trashing the dress! This is an entirely new trend and may not be for everybody.
Some choose to cherish their wedding dress and keep it forever, preserving them for as long as they can. However, some people enjoy the idea of trashing their dress and, in fact, doing so offers amazing inspiration for potential wedding photography ideas.
Trash the dress wedding photography is not an ordinary destination wedding shoot. It demands a lot more of the photographer, and therefore, requires a skilled professional photographer to fulfill your expectations.
Trash the Wedding Dress Photography
A new style of wedding photography that has emerged in recent years, trash the dress, is a fantastic opportunity to take truly candid portraits for your wedding album. A twist on the traditional expectation of highly formal pictures and procedures, a trash the dress session is for people who like to do things that are out of the ordinary.
A bride should feel empowered to stray for the norm a bit and embrace their wild and crazy side. The main thing is you both have decided to take some non-traditional photos. This might involve wearing the gown in a creative way or in a non-traditional environment, or even wearing the wedding attire many years later so you can relive the moments. This type of wedding photography allows you to truly express your connection and love for each other, and it lets you both be yourselves and the resulting portraits are always unique and beautiful.
We use our expertise and creativity to offer you a one-of-a-kind of experience, as well as producing stunning pictures that you will cherish forever. The charm of your love, the beauty of your bridal gown, and our art work will combine perfectly to produce destination wedding photographs that you can be proud of.
AMAZING Trash the Dress Photos
Trash the dress photos are generally captured the day after the wedding but can also be taken many years later as a nostalgic experience. This type of photoshoot is romantic and fun. It can even be sexy if you want it to be. Either way, the result will be stunning pictures that you can cherish for a lifetime. Almost anybody can have a trash the dress photo shoot, but they are particularly popular for destination weddings. This is because this special kind of destination wedding photography would benefit from the breath-taking backdrops available. A trash the dress photo session is one way to make the most of your beautiful wedding dress. Otherwise, it could be wasting away in the attic having only been worn once.
It is a great idea for a bride to wear that beautiful gown again and have a blast. A trash the dress photo session can produce more appealing pictures than traditional wedding photography, as you will be more relaxed and able to express yourself in a fun environment. Plus, your photos won't look the same as everybody else's photos. If you decide you want to fully trash your wedding dress, the effect can be magnificent. There is something so liberating about seeing a wedding gown wet with water and draped over one's body. These pictures are sure to catch people's attention.
If you are still on the fence, check out some of the trash the dress collection we have captured for our playful clients. We can help you plan an exciting tailored session and capture the moments beautifully to create understated artwork you will be amazed by. We are experienced Orlando photographers and know how to make this experience easy and fun-filled.
Rock the Dress Photoshoots
A rock the dress photoshoot is an on-trend approach to wedding photography that involves the brides wearing their gorgeous wedding gown for a second time. This session is a time for you to celebrate the glamour of the wedding dress you picked so carefully for your biggest day. We call it a Rock the Dress session because you need not do any harm to your favorite gown to have a memorable and successful photoshoot. Some choose to have trash the dress photos taken while others would rather just rock the dress. More and more couples are approaching us for this kind of photoshoot, with most couples looking to have the photo taken a few days after their destination wedding. The result of these sessions is truly unique photos that very few wedded couples will have.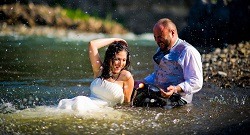 You choose your favorite location for your rock the dress shoot. While some couples prefer romantic sites like waterfalls, beaches, and meadows, others like more urban settings like graffiti-covered walls, busy streets, and restaurants. The options for these photoshoots are endless. Rock the Dress photoshoots are truly customizable and this means you can make them as unique as you like. We consistently find that our clients absolutely love these wedding photography sessions as they let you two express yourselves without the stress of the wedding in your mind. The two of you can pose again in your memorable attire and laugh, dance, and spend time with each other without worrying about anybody else.
Planning Trash the Dress Photo Sessions
Once brides have decided to have an outdoor informal destination wedding photography session in your wedding attire, it is time to start planning how to creatively trash your nuptial gown. These types of photo sessions are not just about ruining the dress but also about how the bride and groom want to express themselves through how they showcase the gown.
It can be somewhat challenging to plan your shoot because there are so many magnificent backdrops available to choose from.
A professional Orlando wedding photographer found here, can suggest the best ideas and locations based on their experience. Whether you have just tied the knot, or it has been a decade, you can always get back into your designer gown and have a fantastic photo session with the one you still love.
It can be as simple as finding the right photographer who can use their creativity throughout the photoshoot.
Want to use an old prom dress instead? Let your imagination run wild, together we can capture incredible unscripted moments together.
Frequently Asked Questions
Q: Is a Trash The Dress Session Only for Destination Wedding Photography?
While definitely more typical of destination wedding photography [1], with settings often directly on the beach, we have plenty of brides who book a session after the actual wedding.
So destination wedding photography or not, let us help your very own trash the dress session.
References
https://www.brides.com/destination-weddings-4692036