Winter Garden Photography – Recent Examples
We'd Love To Hear From You!
Photographers Top Photo shoot locations in Winter Garden, Florida
When Wanderlust Portraits relocated to Central Florida, we began as a Florida photographer, calling the newer Hamlin development home.
Right away, we fell in love with the downtown area of Plant Street. It wasn't long before we got a feel for the best locations. When it comes to Winter Garden photography sessions, there are a few places that stand out – pets and dogs are welcome to join!
I'm so excited to share them with you. If you feel there's any we've overlooked, be sure to drop us a message.
1. Tucker Ranch, Winter Garden – Great for Family Photography & Maternity
Tucker Ranch Recreational Park and Nature Preserve is the area's largest park, located at 100 Avalon Road. A somewhat newer addition to the area. Tucker Ranch Park debuted in 2018 after a handful of unexpected delays from Hurricane Irma.
Beautiful Spanish moss, oak, and pine trees are sprawled throughout this 209-acre nature preserve, perfectly complimenting the lush green grasses and blossoming foliage.
Perfect for a family portrait, for nature lovers, or anyone who loves the outdoors – any time of year. With plenty of shade and a playground for the kids to play on while Mom & Dad sneak a few photos in, many wonderful memories have been made here.
2. Plant Street, Winter Garden – Unique Wedding Portrait Photography

By popularity, this is definitely our most requested area for a local photo session. If you're a resident, you're likely familiar with what is definitely, the coolest street in town.
While locals drive their golf carts to a number of choices amongst a bustling row of restaurants, cafes, and bars – it's a gorgeous backdrop for any photo opportunity. Gather your loved ones, grab an ice cream at Scoops, and take a stroll down Plant Street while the Wanderlust Portraits work their magic.
The whimsical Plant Street is perfect for any resident. Recreate a number of memories, such as heading to the Saturday morning farmers market or sharing meals and drinks at your favorite restaurant.
A 10 out of 10 for anyone looking for that small-town charm.
3. Oakland Preserve – Outdoor Location for Maternity & Family Photos
Located just outside the town limits at 747 Machette Trail, Oakland, Fl. Oakland Preserve is a common destination for our nature-loving neighbors, with an abundance of hiking trails and lush greenery.
Nestled just offshore from Lake Apopka is this oh-so-scenic 128-acre nature park.
A very similar vibe and backdrop to Tucker Ranch, but definitely worth including if it's closer to home. There's also more to do here in the way of activities if you wish to make a day of it with friends and family.
Want some more options? Check out our full Winter Garden photography locations page!
Local Orlando Vacation Favorite – Disney World Florida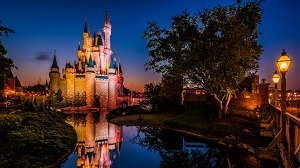 Located just a few minutes away is the most iconic theme park around the globe, Disney World! After much debate about whether or not to mention it on the list as it's not actually located in the city – given its popularity, we thought it deserved at least a quick shout-out.
Many locals looking for photographers near Disney World have annual passes and wish to capture beautiful memories of eating their favorite snacks, perhaps with a backdrop to their favorite attraction.
Disney World photography is ideal for anyone looking to capture their joy and love of the world of make-believe in a photo shoot session.
Final Thoughts From a Winter Garden Photographer
As an Orlando photographer serving many of the surrounding areas, such as Windermere, oftentimes, our clients find it convenient and memorable to use a place or studio that is closer to home.
If you're looking for something specific in Winter Garden that isn't mentioned here or would like some further ideas, be sure to reach out!
We always love to hear from our new friends and old!